Hello and Welcome to the 57th edition of
Tonight I wanted to reopen my HALLOWEEN LINKY from last year.
6 weeks 2 Spook
Go ahead and click
HERE
to read the rules to enter the party.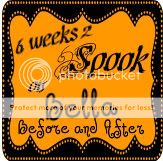 There were so many awesome projects there, and I think it would be fun to look back at some older projects, as well as link up all your new ones too. Lets see how this goes, I may open it up every year, and before we know it, there will be hundreds and hundreds of cool Halloween projects for you to look through. If you have a Halloween project to link up, you've come to the right place.
I just ask that you PLEASE link it up to the HALLOWEEN LINKY.
For all the rest of your projects, as always I'd love to see them linked up to Amaze me August!
SIX WEEKS TO SPOOK ---> HALLOWEEN PROJECTS
AMAZE ME AUGUST ---> THE REST OF YOUR PROJECTS