Today I want to share with you a little about my family.
We are from Romania, and when I was just 6 months old, my dad left my mother and I to search for a better life for us in America. It was a long, hard journey, that was very dangerous, from the very start. Crossing the border back in the communism days, was no joke, and had they been caught, they would have been shoot dead, in the fields.
Luckily they made it to Austria, where they were kept in a work camp, and they all went on a hunger strike for 2 weeks, so that we could eventually join them sooner. While there, my dad made some friends, and soon had a sponsor who would help him come to America. After reaching the UNITED STATES, he had nothing but a small handbag, and the shirt on his back, maybe $100. His friends all ended up going to Canada (one of which is my Godfather, whom I love very much).
Read more about my dad here.
My father, was a hard worker, and immediately made friends everywhere he went, he quickly learned to speak Engish, though Spanish was much easier for him. He saved up enough money to get a small apartment, and even a car. His dream was to have a car, and now it was a reality. The day came when my mother and I would finally arrive in America too, and no man could be prouder to pick his wife and baby daughter up in a new car, in the pouring rain, and bring them home. We didn't have a bed, we slept on the floor, we didn't have a table, we ate on a big box, and life was hard, for them. I don't remember anything.
Anyway during these first few months, my dad gave my mom a necklace, with a gold charm, a four leaf clover, so that we would have good luck in our new country, in our new home.
Luck is a funny thing, you know. My parents both worked hard, and built a wonderful life for my brother and I, and then in a flash, it's all gone, when my dad suddenly died, when I was 15.
I don't consider that lucky, but, we have been blessed with so many things. My incredible family, my mom, my brother, my kids, my husband, and luckily we've never had to go without since those first few weeks in America. We've always had food on the table a warm place to sleep.
This necklace was always special to me, and today I wear it, as a reminder of my dad, and my mom's will to succeed. I wish all of you a wonderful day, and may it be full of luck.
I've also linked this up to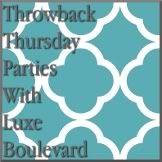 So here is my song Steph, how appropriate to share this song. My parents totally LOVED this song so much, and it totally gives me goosebumps every time I hear it.
Also a quick shout out to my best friend back in California.
She is living it up in San Francisco right now, with her man, celebrating her St. Patricks Day, BDAY.... lucky!!!
Here's a couple pics from the last time I saw her, we went to the beach, and had a great time.
If you liked this post, then follow me dude!

SUBSCRIBE BY EMAIL
Enter your email address here: