Hello and Welcome to the 58th edition of
Just wanted to let you all know that a great friend of mine, and VERY talented author, is having his OFFICIAL book release tomorrow, for THE BIG ASS BOOK OF CRAFTS 2.
You know MARK MONTANO- his BLOG HERE.
That guy --------> there in the sidebar, yup he is awesome. I know I've talked about him before, and I know many of you are following him now too, but in case you missed it, just letting you know, his NEW book is OFFICIALLY released now, so GO, RUN, and grab yourself a copy. He just told us all that even WALMART is selling his books, even for less than Amazon, so dang, pick a place, and check it out.
Make sure to go congratulate him too, he's so dang nice, you will seriously be happy you did. Oh and in case you are in the market for some COOL ASS jewelry and other cool things, check out his ETSY shop, I kinda LOVE all his stuff there too.
Shoot, I just love this guy, he's flippin awesome!
I can see many of you have linked up to the Halloween party, YAY. Totally excited to see more cool projects, we still have to start decorating. I NEVER can get my decorations up in time, golly. At least I have tons of ideas thanks to all of you, so thank you!!
6 weeks 2 Spook
Go ahead and click
HERE
to read the rules to enter the party.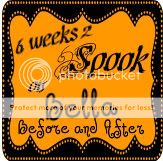 If you have a Halloween project to link up, you've come to the right place.
I just ask that you PLEASE link it up to the HALLOWEEN LINKY.
SIX WEEKS TO SPOOK ---> HALLOWEEN PROJECTS
AMAZE ME AUGUST ---> THE REST OF YOUR PROJECTS