Amaze me August
Another week being blown away by some incredible new blogs. I am so dang happy to see that every week I get new participants joining the party. I don't know how you find me, but am SO happy you do. I absolutely love featuring new blogs, however if you follow along you will notice that I do feature some of my regulars just as often. I pick what I ABSOLUTELY love, what catches my eye, and let me tell you, my list is often WAY longer than 10, so I need to always go back and narrow it down. I hate that, but please know that if I've never featured you before, don't stop linking up. Your day will come, I promise. :) Thanks for all your support everyone, you make me smile!!
Before I go on to the features though, I need to take every opportunity to shamelessly promote my new blog, and linky party over at:
EURO STYLE CAKES
Can you just guess what this party is all about?
PARTIES, everything and everything that has to do with the ULTIMATE PARTY
So if you've worked hard on a birthday party for your kiddos, a baby shower, or even a wedding, I'd love to see it. I want all your best recipes, party foods, party tips, money saving ideas, and more. Don't forget about the cake, show me what you got, I am just so excited about this!!
If you have nothing to link up just quite yet, come check out the blog anyway, it's NEW, but I have some great cake ideas there already, and help spread the word about this party by grabbing a button.
You guys are the best, THANKS for all your support.
*********************************************************
NOW enjoy this weeks TOP 10 features!!
Caroline @ ARTFULLY CAROLINE has been trying to figure out creative ways to use up old denim. She made a couple aprons, and then decided on a cute belt. It turned out really cute, don't you think?

Alex and Wendy @ OLD TOWN HOME redid their crappy B&B to a pretty fabulous guest room, and they did it all on a budget. It's only been eight years on the making, he he, but it's finally done, YAY. This new blog looks pretty darn cool, so glad they linked up!!


Melody @ CRAFTY BUTT created a really pretty American flag, inspired by a PB one she saw for $130, she was determined to make her own. I adore hers, it turned out so cute.


Lesley @ FABULOUSLY FLAWED made a really awesome sign, copying one she saw in the CITY for $180 bucks. After collecting herself off the floor, she got some pine, and a screwdriver and got to work. The result is this beauty, and if it's not enough seeing how she did it, then you'll be glad to know LESLEY is one of the FUNNIEST people EVER, and I love her to death, so make sure to be ready to pee in your pants after checking out her blog, she's good I tell you!!


Amy and Emily @ SISTERS OF THE WILD WILD WEST had some really bright goldish looking faucets, only they weren't really gold. They wanted something darker, like an antique bronze, and with a little spray paint, they got just that. I am so inspired to try this out, I really hate my bathroom fixtures too.


Hero @ STYLE IT CHIC made an awesome light fixture using Ikea trashcans, and Christmas lights, oh my gosh! At first I thought these were flower pots, which they could totally be I guess, if you find clear ones. Make sure to translate the blog when you visit, that took me a second to realize, lol. Ah so much better when you can actually read it. Great ideas from this one for sure.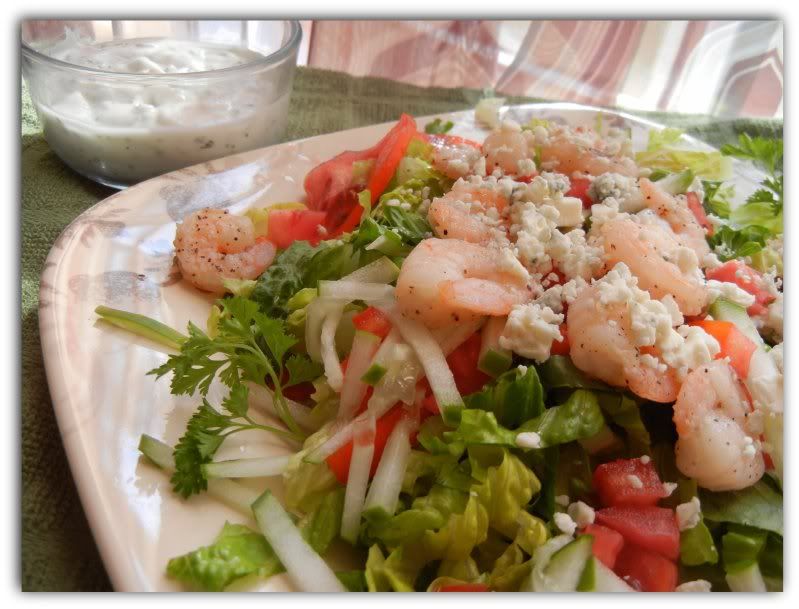 Lyuba @ WILL COOK FOR SMILES made me smile with her incredibly yummy looking garlic blue cheese salad. Even her hubby loved it, and he's not usually happy about salads. This looks fabulous, I love shrimp, AND salad.


Lisa @ THE PURSUIT OF HAPPINESS shocked me this week, by linking up a YUMMY scarf. I'm used to her delicious recipes, but this scarf made from a thrift store blouse was just as wonderful as ever. Thanks girl for surprising me :)


Jill @ KITCHEN FUN WITH MY THREE SONS I'm pretty sure just showed us the CUTEST way ever to serve up some fresh fruit. Tell me this doesn't look EXACTLY like Bert and Ernie. I know totally flippin cute, I am in awe. You must go check out her blog, for TONS of great ideas, it is awesome.


Mary @ THE DECORATIVE PAINTBRUSH turned a neighbors trash into a work of art. This old dresser had chicken wire door fronts, so Mary knew she had to paint it with funky chickens. The piece just screams awesomeness, and it's even complete with a bowl full of wooden eggs, totally cute.