*** Takeover #2 ***
Let's welcome
Stephanie from LUXE BOULEVARD
as she is next to takeover my blog for the month of November. Are you wondering what's going on? Check out
this post
where I explain what's happening. A very special thank you to ALL my friends who have so willingly stepped in to TAKEOVER my blog for a couple weeks :)
Hi Bella readers!
I'm Stephanie, over at
Luxe Boulevard
, the place for all things whimsical and girly.
I'm not going to go into a whole bunch of typed out gibber jabber because I've got a video tutorial to share with you. Bella seemed quite interested in my "smokey eye," so I thought I would share it with you while she's taking care of business. I don't call it a smokey eye because my idea of a smokey eye contains charcoal colors and I don't use any, only blacks and whites. So we're going with "smoldering." Smoldering's hot, right? I mean sexy hot, not temperature hot. You know what I mean! Here it is!
Thanks for tuning in, all. I would love it you stopped by, said hi.
Thanks for having me, Bella. I can't wait for everything to get back to "normal" for you and get you back here.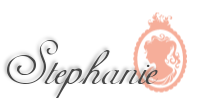 **Aww Steph, you are just the cutest**
I loved seeing your video, I so wish we were closer, so we could hang out, I seriously love ya girl. That was an awesome video tutorial, and you look beautiful as always mama :)
Good luck with the giveaway!!