When I posted
THIS POST
, asking for help, and then sent an email to my bloggy friends, I never expected so many people to respond.I am blessed with wonderful friends, and I had a ton of ladies, who were more than willing to keep you all entertained while I get better, or get some sleep, or paint my garage, whatever, he he. The point is, I am SUPER LUCKY, super THANKFUL, and SUPER excited to introduce you all to Stephanie from
LUXE BOULEVARD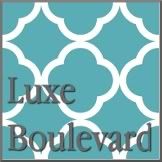 Steph has become a really good friend, REALLY fast, because simply put she is just irresistible. Her blog is totally fun,and she is always blogging about the coolest things. Fashion updates, and the grammy's. Then she's blog about her press on nails, then she is FASHION designer for the week, and walks us through an ENTIRE outfit, top to bottom, and how to create it. In her free time, which I don't know how she finds, she also runs an etsy shop:
LUXE BOULEVARD ON ETSY
She also has a bunch of kiddos, and a hubby, whom she adores, and he is BTW, a very talented musician. As if that wasn't enough my girl, also is an author, THANK YOU VERY MUCH, and has already published ONE book, and working on a second. So needless to say, I love me some creative, talented, inspiring mamas, and STPEH is just that.
Take it away STehp!!
I'm so happy to be here on Bella Before and After.
I hope she gets to feeling better soon.
But (shh) I'm a little glad she's under the weather, otherwise I wouldn't be able to be here today.
Hehe!
Lots and lots of love, Bella!
Anyway, let's go on with what I wanted to share with all you awesome BB&A readers.
You know all us crafty women make decor for the house, more specifically pillows, and no one is allowed to use them, right?
They aren't toys.
They are for decoration purposes only.
No touchy touchy!
Well, I figured that might not be entirely fair to my husband, as this is his house too. And, golly gee damn, he is the one who pays the bills ... and for all of my supplies in which to make stuff with.
My husband is often complaining that he isn't comfortable sitting up in bed when we snuggle up to watch a movie or something after the kids are down for the count--I mean fast asleep! My husband is very tall and has a long neck, so his height makes it difficult to pile pillows up against the headboard and be comfy. So I picked up a bolster pillow at Joann's (it was on clearance for $2.97!) and decided I would make him a neck pillow.
But of course since it was for a man, it couldn't have all the frills and thrills.
So we are making a
man's grunge pillow

!
First cut out all your pieces to fit the size of your pillow.
I'm using some leftover ribbon I had from a belt I made my son for Christmas. I figured it would be great for this pillow. I cut the large piece of red fabric just slightly smaller so that I would have room to attach both pieces of ribbon.
I pinned both pieces of ribbon together, wrong sides facing, and surge/zig-zaged them together with a 1/4" seam.
Basically we are going to be doing all of the seams on the outside to give it a frayed, grunge look.
Press those seams, then attach the ribbons to the your main fabric, again, wrong sides together. Sew the ribbon to the fabric with a 1/4" seam.
Continuing with the seams on the outside, attach the end circles and sew those with a 1/2" seam.
On each of your seams pull a strand or two of the fabric.
Then throw it in the washer and dryer ...
This is going to fray those seams really well. And it's much easier than trying to do it by hand.
See how well that worked!
Insert your pillow form and pin that final edge. Sew it up, 1/2" seam, and you're done!
The first thing my husband said was that he liked the raw edges.
Him + pillow handmade by wifey = ahhh! Although he did not seem to keen on the fact that I made him snap that shot.
Funny note to end this tutorial on: I told Patrick the pillow didn't match the bedroom so he couldn't put it on the bed. He replied, "A pillow I can't use, that's awesome!" Total sarcasmo!
Thanks for having me, Bella.
And thank you Bella readers for having me today too!
Toodles!
Stephanie
LuxeBoulevard.com


THANK YOU, THANK YOU, THANK YOU.
That was awesome, and my boys would surely appreciate that pillow, however I might actually let them use it, he he.
If you liked this post, then follow me dude!

SUBSCRIBE BY EMAIL
Enter your email address here: