For all of you who I am Featuring, Please feel free to grab a button, and brag, a little or a lot.
You are AWESOME!!!
Hello everyone, I'm so sorry I didn't feature everyone from 2 weeks ago, but that's OK I will do it now.
I had a hard time picking there were just so many AWESOME, AMAZING link ups, and I just loved them all. I had to narrow it down, and I have picked my favorites. In no particular order :)
Thank you all so much for participating, and I really hope you continue to share your great projects, recipes, or fun stuff, whatever it may be. Remember practically anything goes here. SO have fun, and come back every week, to join, and see what everyone is up to. I know this party is hardly big, yet, but I like that I am able to visit everyone, and leave comments, and really hope you are finding it easier looking thru the projects, as they are all WONDERFUL, but not so overwhelming, at the same time.
Ok ladies, lets see what I have chosen. Starting with 2 weeks ago, then last week OK.
Donna @ Donnas House on the Corner did such a cool job with this backyard redo. I love gardening, and always looking for great ideas. Not that I have a yard, but you know one day. :) She has a lovely blog, with tons of cool stuff. Go check her out, you'll love it.
THANK YOU DONNA!!!
Tricia @ Leafy Treetop Spot did a really cool tutorial on this pintuck blouse. I have never attempted anything like this, but it looks easy enough, and makes for such a cute detail to an otherwise plain looking top. She is so creative, and has done tons of awesome tutorials on kids projects, sewing, recipes, and more. I really like her blog. You can get sucked up, so put aside some time to enjoy. You'll be glad you checked her out!!
Ami @ AliLilly did this awesome blanket keepsake. I know it seems like Ami pays me for all these features, but I can't help it, I love her. She is awesome, and I know you guys would agree after checking out her blog. Especially when you know how precious her baby girl is, after trying to hard to have a baby, this project is even more special. Go see my friend Ami, she's super sweet!
THANK YOU AMI!!!!
~~~~~~~~~~~~~~~~~~~
Jenn @ This Mommy Loves which I am one of those mommy's who does love, did THE MOST amazing pancake party for her precious. Yes a Pancake party, um hello, how dang brilliant. How much easier, and tasty, and fun, and perfect for a brunch bday party can you get. Jenn, is totally brand new to blogging, but was clearly born to do it, her blog is AWESOME, and so very cute. Make sure to go and check her out. She has all the cute tutorials on how she decorated for this great party there, and it's just fun. :)
THANK YOU JENN!!!
~~~~~~~~~~~~~~~~~~~
Liz @ Bon Temps Beignet is a riot. She is totally funny, and cracks me up, which is refreshing when reading a ton of blogs, it so nice to get some laughter in with some GREAT creativity. I don't know about you, but these TP art trees, she did are just WAY TO COOL, and I love them. So there, yeah I'm weird like that. My mom would FREAK if she knew I made art with TP rolls, but why should she ever know, lol, unless of course I spill the beans, which I totally will, just to get that shocked look on her face, lol. I love her blog, she is super cool, and did I mention FUNNY. Go see her and say HI.
THANK YOU LIZ!!!
~~~~~~~~~~~~~~~~~~~
Moe @ Cross My Hooks is a really creative girl, who describes herself as a budding artist, and lover of life. I can so see this in her blog, and her many wonderful posts. It's almost like being at art class reading her blog, it's so fun. Make sure to go say hi, to this talented young lady, who is determined to make her big break, instead of waiting for it. Gotta love that!!!
THANK YOU MOE!!!
~~~~~~~~~~~~~~~~~~~
ON TO LAST WEEKS FAV POSTS----
~~~~~~~~~~~~~~~~~~~
Kristin @ Adventures of a Betty Crocker Wannabe is such a doll, and she did this crazy cool carnival Birthday party for her precious son Cooper. Isn't that pic the cutest, she had a photobooth, which I totally loved. Everything about this party screamed fun, and I bet EVERY kid there had a blast. Her blog is fun, and she has tons of yummy stuff on it, so go send her some love will ya.
THANK YOU KRISTIN!!!
~~~~~~~~~~~~~~~~~~~~
Michelle @ Emerald Cove redid this Beautiful Scale, and the story behind it was even more BEAUTIFUL. I so got lost in reading all about it, and then checking out some other wonderful blogs. Go see what I'm talking about, it's so great. Michelle's blog, is so relaxing. It's like going on vacation, everything about it is soothing. The way she decorates, is beautiful, and she is beyond sweet. Go pay her a visit, you won't regret it. :)
THANK YOU MICHELLE!!!
~~~~~~~~~~~~~~~~~~~~
Tara @ Three Little Birds did this cool NO SEW bed skirt, for her new baby boy who will be coming home in a few more weeks. I found her a while back, and loved her blog. So sincere, and honest, her and her husband are adopting a precious baby, and they are so thrilled. I have been following along on their journey, and if you get a chance go say hello. They could use all the love, and joy from everyone. She is super sweet, and I CAN'T wait to see her little guy , home safe and sound, in his mommy's hands. Let the crafting begin then Tara, as motherhood, is full of fun projects :)
THANK YOU TARA!!!!!
~~~~~~~~~~~~~~~~~~~~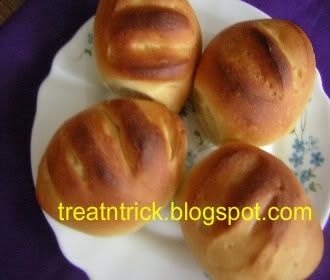 Pally @ Trick & Treat made these yummy rolls. Who doesn't love onions, well maybe some of you, but I love them, so these just look too good. While thanking her for joining, I started looking at all her other recipes, and oh my, was I in heaven. She has an amazing collection, on Indian, Thai, Chinese, Vegetarian, Baked goods, well, you name it. Still haven't figured out her name, or where she is from, but what does that matter, she is TALENTED, and a great cook. I call her Pally (she signs Palatable at the end of her posts). I would so love eating at her place, at least once. YUMMY!!
THANK YOU PALLY!!!!
~~~~~~~~~~~~~~~~~~~~
Sunny @ Life in Rehab is another FUNNY one. Her blog is hilarious from the very start, just look at her pic on her header. Chillin with a pretty glass of wine, and a saw, hammer, drill on her lap. It's great. Her blog is full of woman hear me roar kind of posts, and she is very inspiring. I mean come on she redid a whole ceiling in one post, ok well not the whole thing, but still, she is not afraid to break a nail. :) Go check out this post on how she tool the creepiest looking sad firescreen, and redid it into this beauty, complete with ultra cool turqoise colored tools. Love my Sunny, and you will too.
THANK YOU SUNNY!!!!
~~~~~~~~~~~~~~~~~~~~
Stacy @ Not just a Housewife did the most CREATIVE thing I've seen with pumpkins. Ok so to be fair, she grows her pumpkins so she n do this, but still it was so cool, I couldn't help but show you guys this. She scratches the pumpkins while still growing, so when they heal, they actually scar, and leave behind whatever you scratched up on them. She has some lovely pics on her blog, and tons of other fun stuff, so go check her out. This is too cool, I love it.
THANK YOU STACY!!!!
~~~~~~~~~~~~~~~~~~~~
Vanessa @ Silly Eagle Books has such a unique blog. Most of her crafts are all inspired for her love of books. She is SUPER creative, and everything she does is simply beautiful. She created this spooky soap, and paste, with all the spooky glory, from you guessed it a book. Go check her out for all the details, you will be amazed. I was thrilled when I found her, and simply love her.
THANK YOU VANESSA!!!
~~~~~~~~~~~~~~~~~~~~
That concludes my GIGANTIC post with some of my favorites. Darn, I must tell you how hard it was to choose, but such is life. I am thrilled that I actually have to start choosing. Good news, and I can only hope for even more of a fantastic turnout next week.
Thank you again ladies, you are awesome. Look forward to seeing more, and MORE of you, every week. Share the party around, so more can join, and see all the coolness.
You make me happy, and I hope that I put even a small smile on your face today too. Thank again!!!
Never miss a party, click here, for the latest one, and always be up to date. Hope to see you soon.
For all the Halloween crafts going on, please join me here!
My **6 weeks 2 Spook** is currently going on.
As always ENJOY!