Amaze me August
FEATURES
Below you will find this weeks TOP 10, if you'd like to be featured here, make sure to link up your projects :)
Please grab a button if you've been featured, and display it proudly!
You were all awesome. Can't wait to see what you have for us next time. I would appreciate any help in spreading the word about my party, and blog, so grabbing a button, would really be awesome, and you'd make me super happy :)
Christine @ KRAZY CRAFTY LADY made a really cute pillow, the perfect gift for any newlywed, he TONIGHT, NOT TONIGHT pillow. Gotta love that!!!
Christine @ KRAZY CRAFTY LADYI know two features, BUT how cool is this breadbox turned ribbon holder? Totally cool, I know, that's why I couldn't resist featuring this too. Way to go girl!!
Jill @ CREATING MY WAY TO SUCCESShas a great challenge on her blog, the clothing upcycling challenge, and she showed us how she turned an ordinary tshirt into a darling dress for her daughter. You have to check out her blog, it's full of awesome ideas.
Maria @ MOMMY MADE made her son an awesome guitar cake. He turned 5, and she made this cake for her big boy. I love the tutorial, step by step, very useful, and just look at the results. :) LOVE it.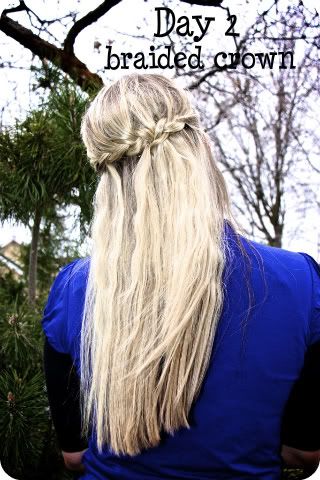 Abby @ MY YELLOW SAND BOXhas set up a challenge to create 30 hairstyles in 30 days, and so far, she does not let us down. Some really creative, cool ideas, to style that hair. No more excuses for boring pony tails anymore.
Ashley @ EVELYN KATE DESIGNcreated a blogging calendar. How brilliant is that. I love how simple this is, but we all know that it will be very useful. Go check it out, and see if it can't help you!!
Megan @ FOWL SINGLE FILEused up some scraps, and created a wonderful, useful, and pretty cd holder, yes some of us still use them, lol. She also made some really cute bean bags.
Kaitlin @ THE GOODEY KNOT loves Vans, I do too, but she had a pair, a plain white pair, that she didn't love, and after a quick stencil paint job, I think I AM IN LOVE. These are toooooo cute.
Becky @ RUB SOME DIRT ON IT did something really cool with her plastic Easter eggs. Nothing crafty, nope, just totally awesome none the less. She made an alphabet game, for her little man. I could so see this, used with math, even matching pictures. What a SUPER great idea.
Nicki @ SO FREE MEmade a wreath, from rags. Well actually a $2.00 blanket from the dollar store, BUT you could so use up old tshirts, or even sheets, anything really. This is a great way to use up those scraps.
THANKS SO MUCH LADIES!