Yesterday I was FEATURED, and here's the cutest picture that says it all. So cute right?
Sourkraut, a great new blogging pal, I made JUST recently, has fallen in love with me, so much so that she has awarded me with this award.
I was thrilled to see this, and to say the least completely shocked, and humbled. Not only is she totally new to my blog, but with all the awesome blogs out there for her to include me in the top 15, is just amazing.
has a very cool blog, filled with recipes, (she's kinda German), crafts, projects, photography, sewing, you name it, she seems to do it. Just today while checking her out she was doing a great feature on her favorite etsy things, wishing she had more etsy friends so she could show them off (hint hint). She is very talented, and from what I've seen loves to celebrate others as well. What's not to love about a gal like that.
THANK YOU my sweet Sourkraut, I would gladly return the award to you, but per the rules, will be passing it on to 15 others. Watch out for my list coming very soon, will take me a bit to narrow it down, but am TOO excited to be able to do it.
******************************
Then today I get a message from my sweet girl Ami over at ALI LILLY, telling me she included my
FISH CURRY
in a feature she was doing on yummy, comforting fall food. Hello, that was so cool, I mean seriously, made me smile. I've actually seen some of the other recipes she shared on there, and they all look fantastic. Ami, is a regular here, and has been my #1 supporter since starting Amaze me August. She was so willing to spread the word, link up, and offer support. It was so nice, and made me feel happy. Just like a good neighbor AMI is there :)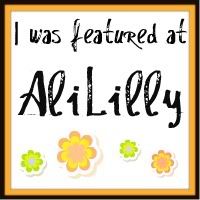 As always ENJOY!